Tuesday 19th January 2021
Dr. Hugo Anderson-Whymark (NMS)
"Carved Stone Balls"
An introduction by Trevor Cowie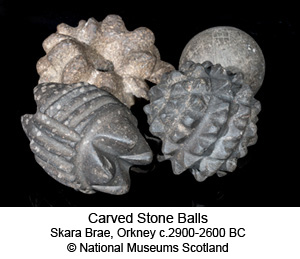 Carved stone balls are one of Scotland's most talked about types of prehistoric artefact. Created some 5000 years ago during the Late Neolithic period, their distinctive knobbed forms were carefully 'pecked' and ground to shape by communities across the north east of Scotland. A small number, such as the Towie Ball, were elaborately decorated and represent some of the finest examples of Neolithic 'passage grave' art in Europe. This month we look forward to hearing the results of up-to-date research on these enigmatic and fascinating objects by our invited guest speaker, Dr Hugo Anderson-Whymark (National Museums Scotland) in an illustrated presentation entitled 'Re-thinking Scotland's Neolithic Carved Stone Balls'.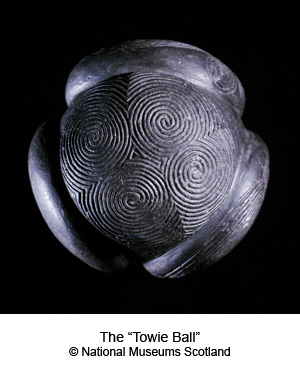 For more than 150 years these elaborately shaped stone spheres have captured the imagination and inspired passionate debate over their date, function and significance to past societies. On joining National Museums Scotland in 2018, Hugo embarked on a programme to collate and digitise old archives and produce new imagery of these artefacts (by using photogrammetry to create 3D models). The resulting models have allowed him to explore the patterns of stone-working in unparalleled detail, revealing that many of the balls have complex biographies, with distinct episodes of reworking changing the artefacts form or decoration. This has implications for how we understand and classify these artefacts. These new insights provided the opportunity to revisit the protracted and convoluted debate over the date and function of carved stone balls, and to reconsider the available archaeological evidence.
After completing his PhD at the University of Reading, Hugo Anderson-Whymark worked as a freelance artefact specialist for numerous commercial companies across Britain, as a Post-Doctoral Researcher on various projects ranging from Argyll to Orkney and as a lecturer for the University of the Highlands and Islands in Kirkwall and at Bournemouth University. He also has a strong background in field archaeology and has worked on numerous high-profile commercial and research projects, including the Ness of Brodgar, Orkney and the Stonehenge Riverside Project, Wiltshire. In 2018 Hugo joined the Scottish History and Archaeology Department at NMS, where he is now a Senior Curator of Prehistory with responsibility for the Palaeolithic, Mesolithic and Neolithic collections.
Interested in this or any of the other fascinating talks we have lined up until the Spring?
Paid-up members automatically receive an invitation to the event. However we are always delighted to welcome new members: for details of our current subscription rates, check out the Membership page. You can also contact us by webmail if you have a particular query.