A Walk in the Park
The Archaeology & History of Hay Lodge Park, Peebles & its environs.
Peeblesshire Archaeological Society 2019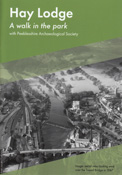 Peebles offers a host of delightful short walks surrounded by the beautiful Borders scenery.  One very easy and popular local walk is the circuit from the Tweed Bridge along the riverside by the Swimming Pool and on through Hay Lodge Park, before crossing the footbridge to return along the opposite bank. Yet, as they make their way around the Park, local residents and visitors alike may be unaware of the area's hidden history.
Complementing our self-guided trail leaflet, the aim of this short booklet is simply to introduce the visitor to the main points of archaeological and historical interest in the park and its immediate surroundings. Suggestions for further reading are provided for those wishing to delve into the fascinating local history of the area in more detail.

The booklet is available in printed form from the Tweeddale Museum or from Whitie's Bookshop in Peebles (price  £2) or alternatively as a free download here.