Society Books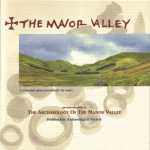 After setting the scene with a brief description of the landscape, this attractive and colourful booklet goes on to describes the archaeology of what is one of Peeblesshire's most beautiful valleys. The writers tell the story of its past inhabitants, from the traces left by early prehistoric hunters as they camped by the Tweed to the ruinous towers of its 16th century lairds.
"... a winsome grace peculiarly its own": an Introduction to the Archaeology of the Manor Valley.
Peeblesshire Archaeological Society 2000, Edited by Trevor Cowie
- from text compiled by Ken Cobban, Trevor Cowie, Peggie Ferguson, Bob Knox, Isabelle Paterson and Tam Ward.
The proceeds form the sale of this booklet are used to fund our current fieldwork projects.
Society Booklets
A Walk in the Park: the archaeology & history of Hay Lodge Park & its environs - pdf
Lyne Adam and Eve Stone Leaflet - pdf
Society Newsletter
PAST - Peeblesshire Archaeological Society Times
The Society reqularly publishes newsletters updating members on its activities. Copies can be downloaded as pdf files by clicking on the links below.

PAST April 2022 - pdf
PAST April 2021 - pdf
PAST February 2021 - pdf
PAST October 2020 -pdf
PAST April 2019 - pdf
PAST October 2017 - pdf
PAST April 2017 - pdf
PAST April 2016 - pdf
PAST Summer 2015 - pdf
PAST November 2012 -pdf
PAST September 2012 - pdf
PAST April 2012 - pdf
PAST December 2011 - pdf
PAST September 2011 - pdf
PAST April 2011 - pdf
PAST January 2011- pdf
PAST November 2010 -pdf
PAST Autumn 2010 - pdf
PAST April 2010 - pdf
PAST Winter 2005/2006 -pdf